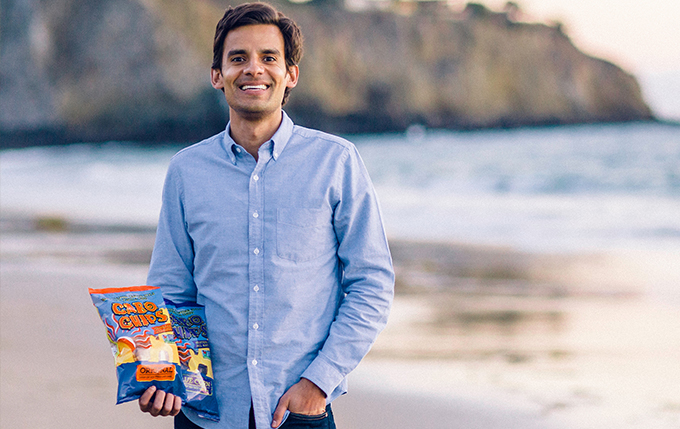 Cinco de Mayo is the start to summer here in SoCal! Time for fresh fruit and beach days, chips and guacamole and a good excuse hang with friends and soak up the sun!  This year we teamed up with Christian Bunte, owner of Cabo Chips to bring you three beWELL recipes to spice up your Cinco de Mayo!
First, meet Christian (a dear friend) and founder of the increasingly famous Cabo Chips!
Tell us a little about yourself and how you got started with Cabo Chips? 
I grew up near the beach in OC and since an early age wellness has played an important part in my life. I love surfing, running on the beach, bike riding – I really enjoy the outdoors! I'm also a bit of a foodie. I love trying new restaurants, as well as tinkering with recipes in my own kitchen. (shh..I'm actually working on a few new flavors of Cabo Chips right now!)
I got started with Cabo Chips out of my family's desire to create a healthier and tastier replacement to the traditionally greasy and powder-coated chips we were finding in our local grocery stores. Our mission is to offer healthy, all-natural, non-GMO Mexican food products that are as fresh as possible, while also making a positive impact on the environment through our involvement with the Surfrider Foundation.
Why should our readers choose Cabo Chips and where can they find you?
Cabo Chips are hand-cooked right in Southern California. We only use 5 simple ingredients that are Non-GMO, Gluten Free, Kosher, Vegan, and 100% Whole Grain but most importantly they taste great! While most chips use corn flour, we use fresh ground corn that we actually make into tortillas and cut fresh daily to make our chips. That's why you get at sturdy crunch just like you would have with your favorite Mexican Cantina's chips. We also don't use any powdered flavorings. All of our flavors come from real quality ingredients like gluten-free soy sauce, real lime juice, and sea salt. Cooking with real ingredients means we can offer a chip with 65% less sodium as well.
You can buy Cabo Chips at Whole Foods, Ralphs, Bristol Farms, Gelsons, and other quality grocery retailers in Northern and Southern CA. You can find out more on Facebook, Twitter and Instagram (@cabochips) and at www.cabochips.com. We also have a store locator on FB to help you locate your nearest bag!
1 bag of Original Cabo Chips

2 large tomatoes (cored & seeded)

1 habanero chile (seeded)

4 tbsp chopped white onion

2 cloves of garlic

Juice of 1 Lime

Juice of 1/2 Orange

1/2 teaspoon salt (or salt to taste)

1 cup of chopped cilantro
Add tomatoes through cilantro to a food processor or Vitamix.

Blend for 30 seconds.

Add additional salt if desired.
***If you like it hot, increase to two habanero chiles
1 lb raw shrimp chopped into small pieces (shelled, deveined and tail removed)

1 cup chopped persian cucumber

1 cup chopped red pepper

1/2 cup chopped fresh cilantro

1/4 cup chopped red onion

1/2 cup chopped mango

1/2 cup chopped pineapple

3 tbsp chopped serrano pepper

1 cup freshly squeezed lime juice

1 cup freshly squeezed lemon juice

1 avocado

Salt to taste
Place the shrimp in a large mixing bowl. Add 1/2 cup lime juice and 1/2 cup of lemon juice. Let stand so the shrimp can "cook" in the juice, 15 minutes or until shrimp is a pink opaque color.

In a separate large mixing bowl, mix the remaining 1/2 cup lime and 1/2 cup lemon juice, mango, pineapple, cucumbers, red pepper, cilantro, red onions and serrano chile to incorporate evenly. Transfer the mixed vegetables into the shrimp bowl when shrimp is desired color and mix well to incorporate.

Add slices of fresh avocado and extra cilantro sprigs right before serving.

Salt to taste.
1 bag Blue Corn Cabo Chips

2-4 avocados

1 lime

1/4 cup chopped mango

1/4 cup chopped pineapple

1/4 cup chopped persian cucumber

1/4 cup chopped jicama

2 tbsp chili powder

Salt to taste
Mash avocado flesh with juice of half lime and mix with 1 tsp of salt.

Scoop into a serving bowl and sprinkle with mango, cucumber, jicama and pineapple.

Sprinkle fruit and vegetable topping with chili powder and salt.

Squeeze fresh lime on top to finish.