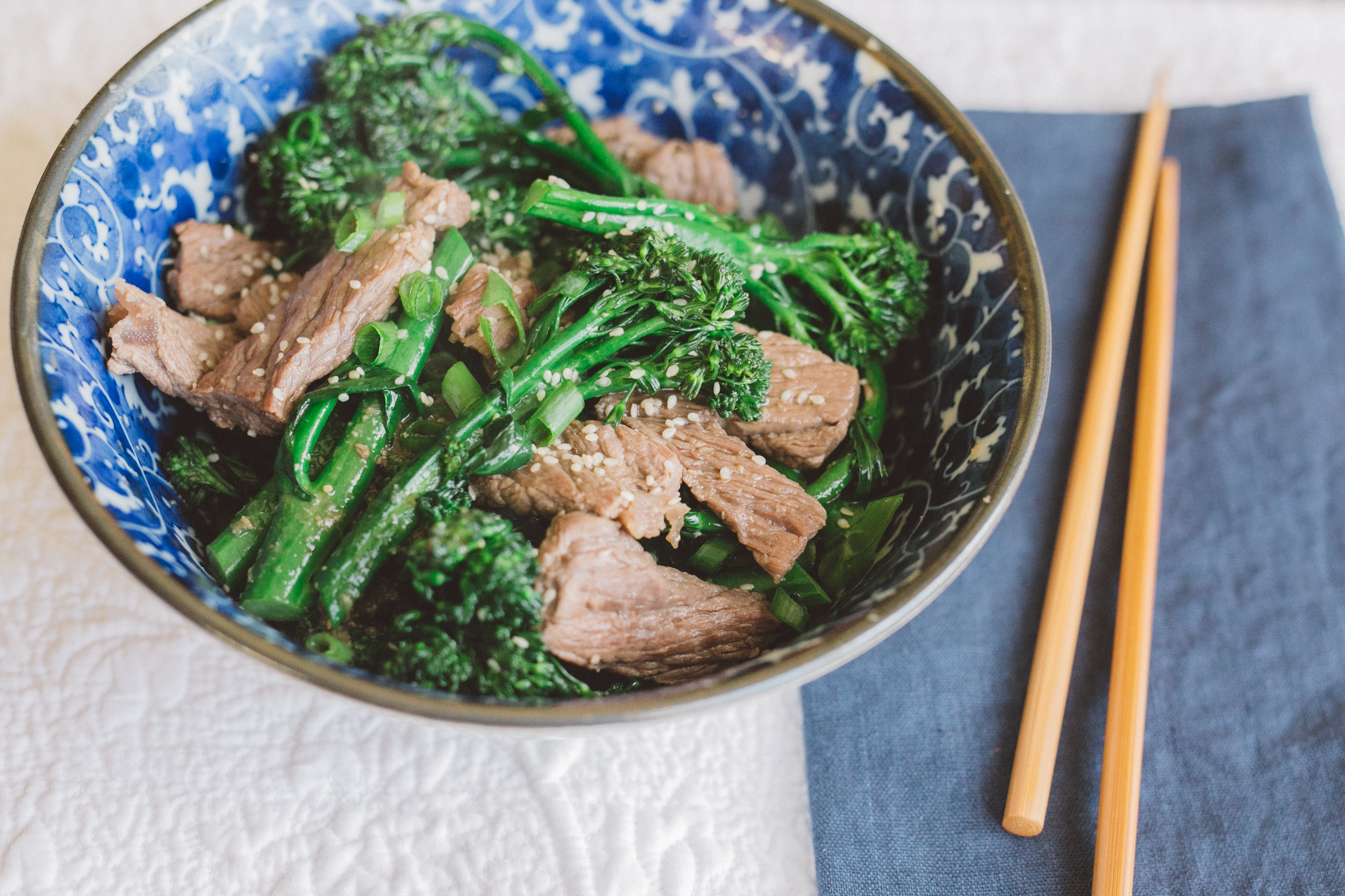 It doesn't get much easier than this, and the taste is sure to satisfy your craving for Asian takeout! This meal was made in under ten minutes, and the minced garlic and ginger came from jars. (Yep, I admit it.)
Makes 2 servings
Ingredients
8 to 10 Broccolini stalks, halved crosswise

6 tablespoons coconut aminos

1 tablespoon minced fresh ginger

1 tablespoon minced garlic

1 tablespoon red pepper flakes

2 tablespoons coconut oil

Pink Himalayan salt or sea salt

2 (4- to 6-ounce) grass-finished strip loin steaks, thinly sliced across the grain

Organic stevia drops

Minced fresh chives, for garnish

Sesame seeds, for garnish

Hot sauce
Directions
Bring 2 inches of water to a simmer in a saucepan over medium heat. Add the Broccolini and cook for 4 minutes, or until tender. Drain and set aside.

Make your sauce! In a medium bowl, whisk together the coconut aminos, ginger, garlic, and red pepper flakes.

In the same saucepan, heat the coconut oil over high heat. Lightly salt the beef and add it to the pan. Cook for 2 minutes, then turn the beef and add the sauce. Cook the beef through, about 2 minutes, stir, and add 4 drops of stevia, or to taste (a little goes a long way).

Return the Broccolini to the pan and stir to combine and coat.

Serve in a bowl garnished with sesame seeds and chives, with hot sauce alongside.