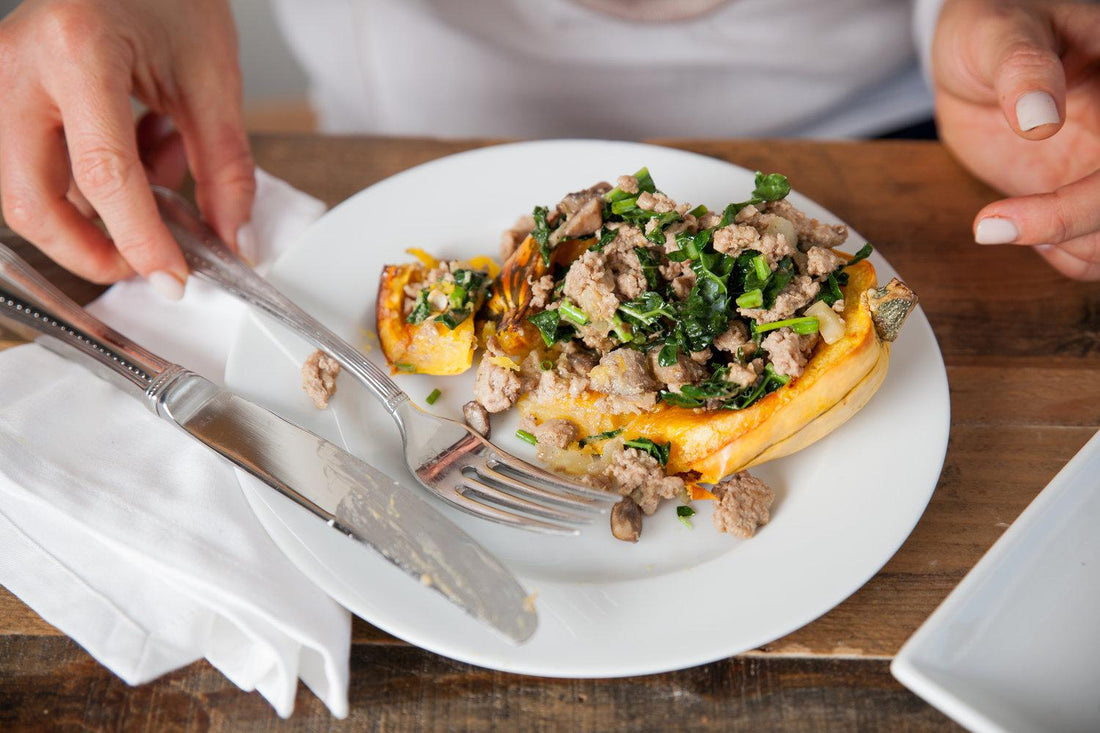 Recipes /
Turkey-Stuffed Delicata Squash
Serve up all the Thanksgiving flavors with this quick and delicious weeknight meal!
Prep Time

15 minutes

Total Time

1 hour

Servings

4

Freezer Friendly

No
Ingredients
2 (1-pound) delicata squash, sliced lengthwise and seeded
4 tablespoons olive oil
Pink Himalayan salt and freshly ground black pepper
1 cup chopped onion
1 cup chopped celery
2 garlic cloves, minced
1 cup chopped mushrooms
1 pound ground turkey
1 tablespoon organic garlic salt
½ teaspoon smoked paprika
1 teaspoon ground cumin
1 cup chopped kale leaves
2 tablespoons tahini
2 tablespoons minced fresh chives
Directions
Preheat the oven to 425°F
Rub the squash halves with 2 tablespoons of olive oil and season the insides with salt and pepper. Set them cut-side up in a baking dish or rimmed baking sheet and roast for 35 minutes, or until tender.
In a large skillet, heat the remaining 2 tablespoons olive oil over medium heat. Add the onion, celery, and garlic and cook until the onion is translucent 4 to 5 minutes. Add the mushrooms and cook until tender, 2 to 3 minutes. Add the turkey, garlic salt, paprika, and cumin and cook until the turkey is cooked through (usually about 4-5 minutes) breaking it up as needed. Add the kale and cook for 1 to 2 minutes, until softened.
Take the pan off the heat. Stir in the tahini and season with salt and pepper.
Divide the turkey mixture among the squash halves (they should be generously full). Sprinkle with chives and serve a squash half to each person.