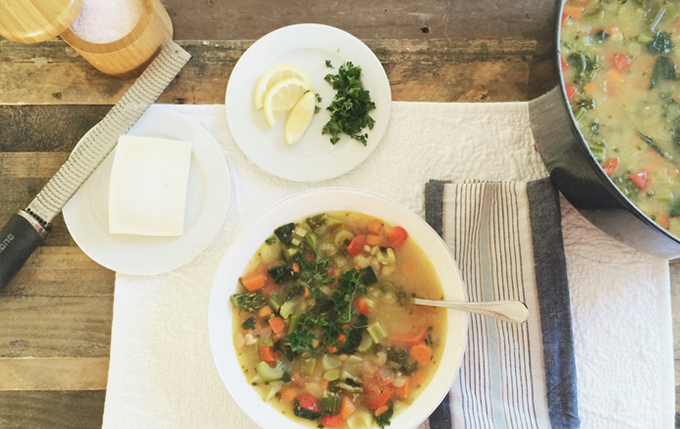 The colder months bring warm soups and blazing fires. Unfortunately, they also make cold salads and raw vegetables less palatable. Keeping a fresh homemade vegetable soup on hand can help ensure you are getting the vitamins, minerals and fiber you need to keep your body healthy through the winter months. Soups are easy to freeze into individual containers for a quick #meatlessmonday meal and the perfect side to a roasted protein. If you decide to use a bone broth you will receive a great source of collagen and gelatin for hair, skin and gut health along with magnesium, calcium and phosphorus.
Ingredients
1 quart chicken bone broth (homemade is best)

2 Tbsp. olive oil

1 cup of chopped onion

1 cup of chopped celery

6 cloves of minced garlic

1 cup of roughly chopped carrots

1 cup chopped Tuscan Kale (ribs removed)

1 cup of chopped broccolini

1 chopped vine ripe tomatoes

1 can white beans (or quinoa)

1 chopped red pepper

4 Tbsp Adobo Seasoning (Frontier Organic Adobo Seasoning)

2 Tbsp. parsley

1 lemon sliced in quarters
Directions
Heat the olive oil in large, heavy-bottomed stockpot over medium-low heat. Add the onion, celery, garlic, and a pinch of salt and sweat until they begin to soften, approximately 5 to 6 minutes, stirring occasionally. Add the carrots, kale, and broccolini and continue to cook for 4 to 5 more minutes, stirring occasionally. Add 4 tbsp of Adobo Seasoning mix and stir.
Add the stock, increase the heat to high, and bring to a simmer. Once simmering, add the tomatoes, white beans and the pepper. Reduce the heat to low, cover, and cook until the vegetables are fork tender, approximately 20 minutes. Remove from heat and add the parsley and lemon juice. Season, to taste, with kosher salt. Serve immediately.