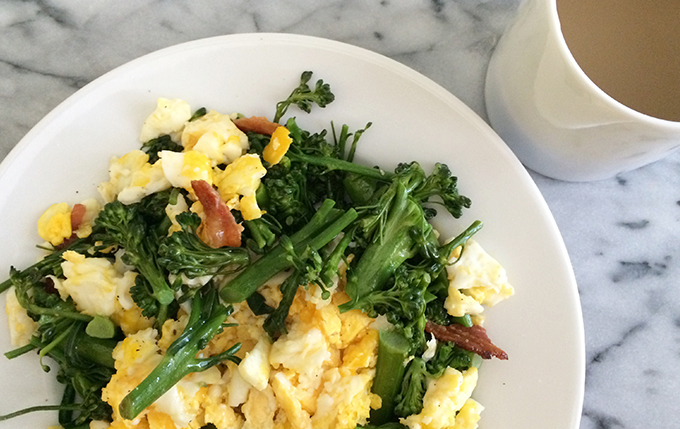 For those of you who grew up in the cheesy broccoli era, this is a hit that is sure to satisfy.  The runnier the eggs the better!!
Ingredients
4 eggs

2 cups of broccolini

Pink salt

Nutritional yeast (optional)

Bacon (optional)

2 tbsp ghee
Directions
Blanch chopped broccolini in a fry pan for 3-4 minutes until tender.

Drain water and add 2 tbsp of ghee.

Move ghee around in the pan to coat.

Add 4 eggs and allow to begin to fry on medium heat.

Break two yolks of your 4 yolks and begin to softly scramble with broccoli.

Add bacon and 1 tsp of sprinkled nutritional yeast as the eggs cook.

Softly fold the last two yolks into the broccolini for 15- 20 seconds and remove quickly.

You want the hot yolks to coat the broccolini and crust like melted cheese.
Enjoy!