Build the perfect cobb salad! This recipe makes for a high-protein meal with a homemade dressing that is filled with delicious healthy fats to keep you fuller longer.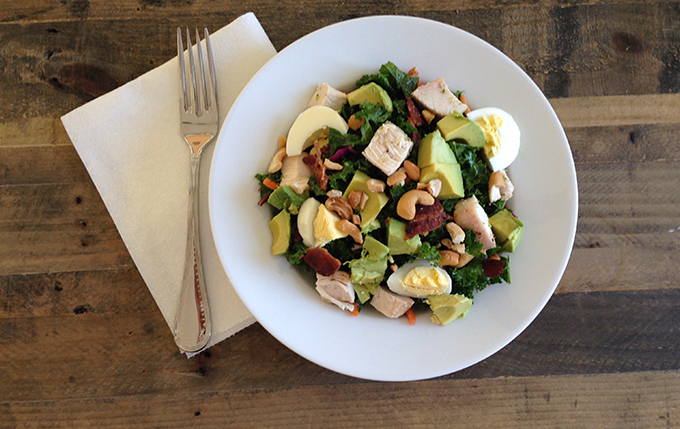 Ingredients
SALAD
4 c. chopped Kale

1 chopped fully cooked organic chicken breast

2 sliced hard boiled eggs

2 pieces of crumbled organic nitrate free bacon

1/4 c. chopped cashews

1/4 c. shredded carrot (optional)

1/4 c. shredded red cabbage (optional)

1/4 c. sliced cherry tomatoes (optional)
DRESSING
2 tbsp red wine vinegar

1 tbsp lemon juice

1 tsp. dijon

1 tsp. Worcestershire sauce

1 minced garlic clove

1/4 tsp. salt

1/4 tsp. black pepper

4 tbsp olive oil
Directions
SALAD
Combine all ingredients in a bowl.

Pour dressing over salad and toss to coat.
DRESSING
Whisk all ingredients except olive oil in a small bowl.

Continue whisking and slowly add olive oil to create and emulsification.