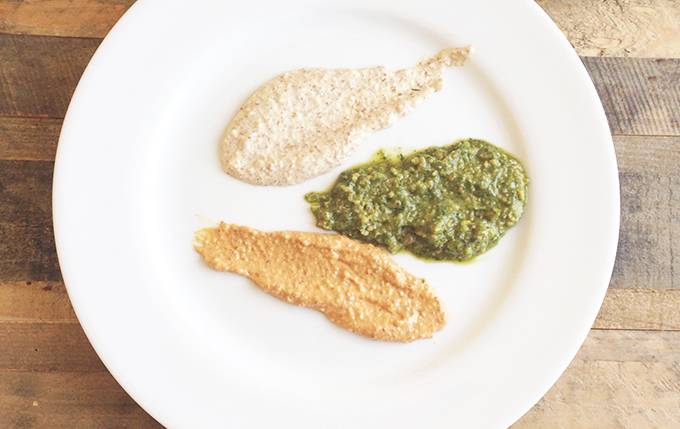 Condiments are king! They spice up any dish, make you look like a Top Chef and hit the satisfaction spot when you are eating clean. Not to mention, they are full of protein, easy to make in bulk and store in the fridge for a week. These three dips can be used with veggies, on protein or diluted as a dressing. (maybe…Chipotle for a Mexican salad and Garlic as a Caesar replacement) 
The directions are simple and one step; Place ingredients in a food processor or vitamin and pulse to desired consistency.
Note: the refrigerator will thicken the sauce so don't be afraid if it seems too thin.
Garlic Sauce
1 c. water

1/2 c. olive oil

1/2 c. raw almonds (soak 1-2 hrs if desired)

1 tbsp nutritional yeast (omit if the flavor doesn't suit you)

1/4 c. lemon juice

3 cloves of garlic garlic

2 tsp. bragg liquid aminos (option; use coconut amines instead)

1/2 tsp. cumin

1/2 tsp. chili powder

1/4 tsp. paprika

1/2 tsp. salt
Chipotle
Add 1-2 chipotles in adobo sauce to Garlic Sauce. (I always pour half in a container and add 1 chipotle and blend so I get both dips for the week)
Cilantro Pesto
3 cups chopped fresh cilantro

3 Tbsp. chopped jalapeño (1-2 medium)

1 garlic clove

1 cup raw pistachios

1 cup extra virgin olive oil

Juice of one lime

salt to taste