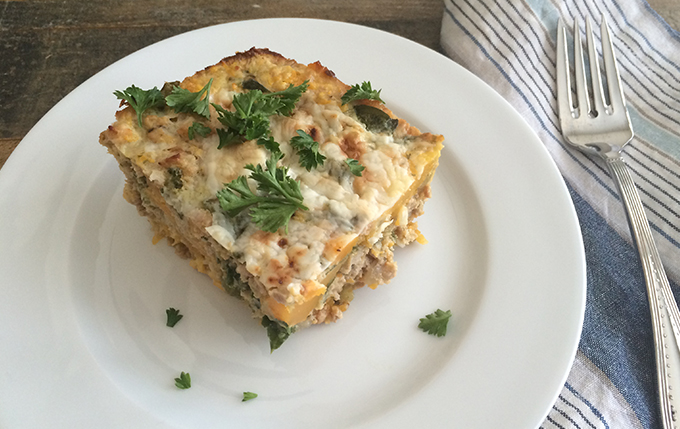 Ingredients
1 lb of turkey

2 cups of cubed butternut squash

1/2 cup onion (chopped)

1/2 cup celery (chopped)

2 tbsp olive oil

2 cup spinach (roughly chopped)

1 cup chopped tomatos

3 eggs

4 tbsp italian seasoning blend

1 tbsp smoked paprika (optional)

1 tbsp pink salt

1 tbsp coconut oil

2 minced garlic cloves

Shredded goat or sheep cheese (optional)

Parsley to garnish
Directions
Preheat oven to 350 degrees

Coat cubed squash with coconut oil. Place on a baking sheet and bake for 30 minutes.

In a medium, add onion, garlic, olive oil and celery. Set fire to medium- low and stir continuously for 2-3 minutes to sweat onions and until garlic is aromatic. Be careful not to burn garlic.

Add Turkey, Italian seasoning and salt. Turn heat to medium and cook meat thoroughly, breaking it into small ground bits and stirring to avoid burning the garlic.

When turkey is cooked, add tomatoes, spinach and cooked squash and stir completely. Spinach will wilt and tomatoes will release juices.

Take mixture off fire and pour off excess water.

Pour into a 9×13 pyrex pan. Sprinkle with paprika and let cool for 10 minutes.

In a small bowl, beat 3 eggs together and pour over the pyrex mixture. Use the fork to lightly mix the meat and veggie mixture with eggs.

Add shredded cheese to top. Bake without cheese for a #whole30 #paleo casserole.

Bake Casserole for 20-30 minutes until cheese is golden and/or until eggs are set.