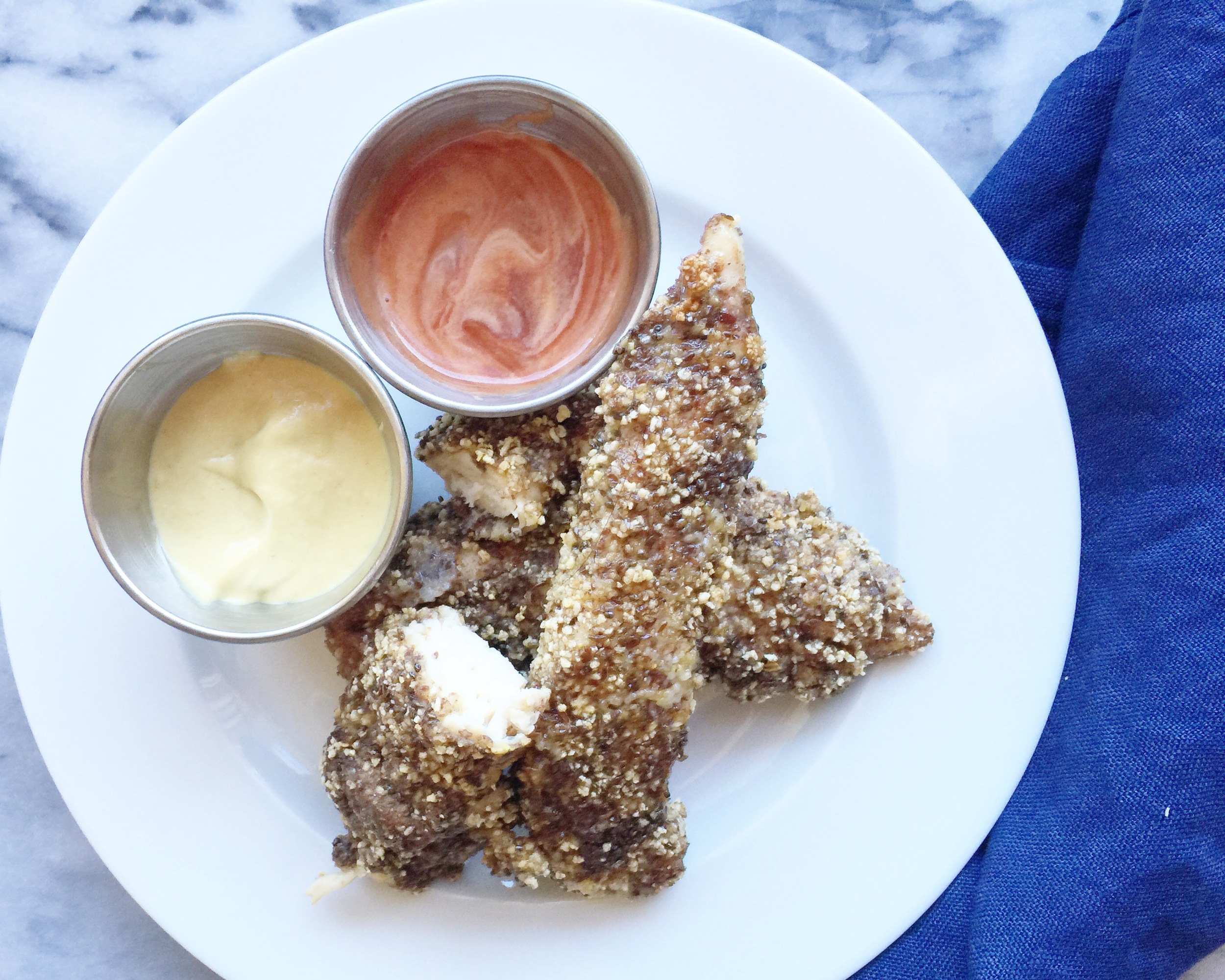 We all love the tasty comfort of a chicken tender. Try this one, with an added bump of fat and fiber—so delicious!
Makes 4 to 6 servings
Ingredients
1 cup potato starch

1 teaspoon pink Himalayan salt

1 teaspoon freshly ground black pepper

2 large eggs

1 cup chia seeds

1 cup flaxseeds

1 cup gluten-free panko bread crumbs (or grain free flour)

2 teaspoons paprika

2 teaspoons garlic salt

Pinch of chopped fresh parsley

4 to 6 ounces uncooked chicken tenders, pounded to ½-inch thick or less

¼ cup ghee (clarified butter)
Directions
Preheat the oven to 350°F.

Create a breading line. On one plate, combine the potato starch, salt, and pepper. In a shallow bowl, whisk the eggs. On a second plate, combine the chia, flax, bread crumbs, paprika, garlic salt, and parsley.

Take each chicken tender through the breading line, first dipping it in the potato starch mixture, then dredging it in the egg mixture to coat completely, letting the excess drip off, then coating it with the chia-flax mixture. Set the pieces on a baking sheet as you finish.

In a large sauté pan, melt the ghee over medium heat.

Working in batches, set the tenders in the pan and raise the heat to medium-high. Cook the tenders, turning them gently after 2 to 4 minutes, until the crumbs are browned on both sides and the chicken is cooked through. Transfer them to a baking dish or baking sheet as you finish each batch.

Transfer the tenders to the oven and bake for 10 to 12 minutes, or until cooked through.

Serve with avocado hummus.