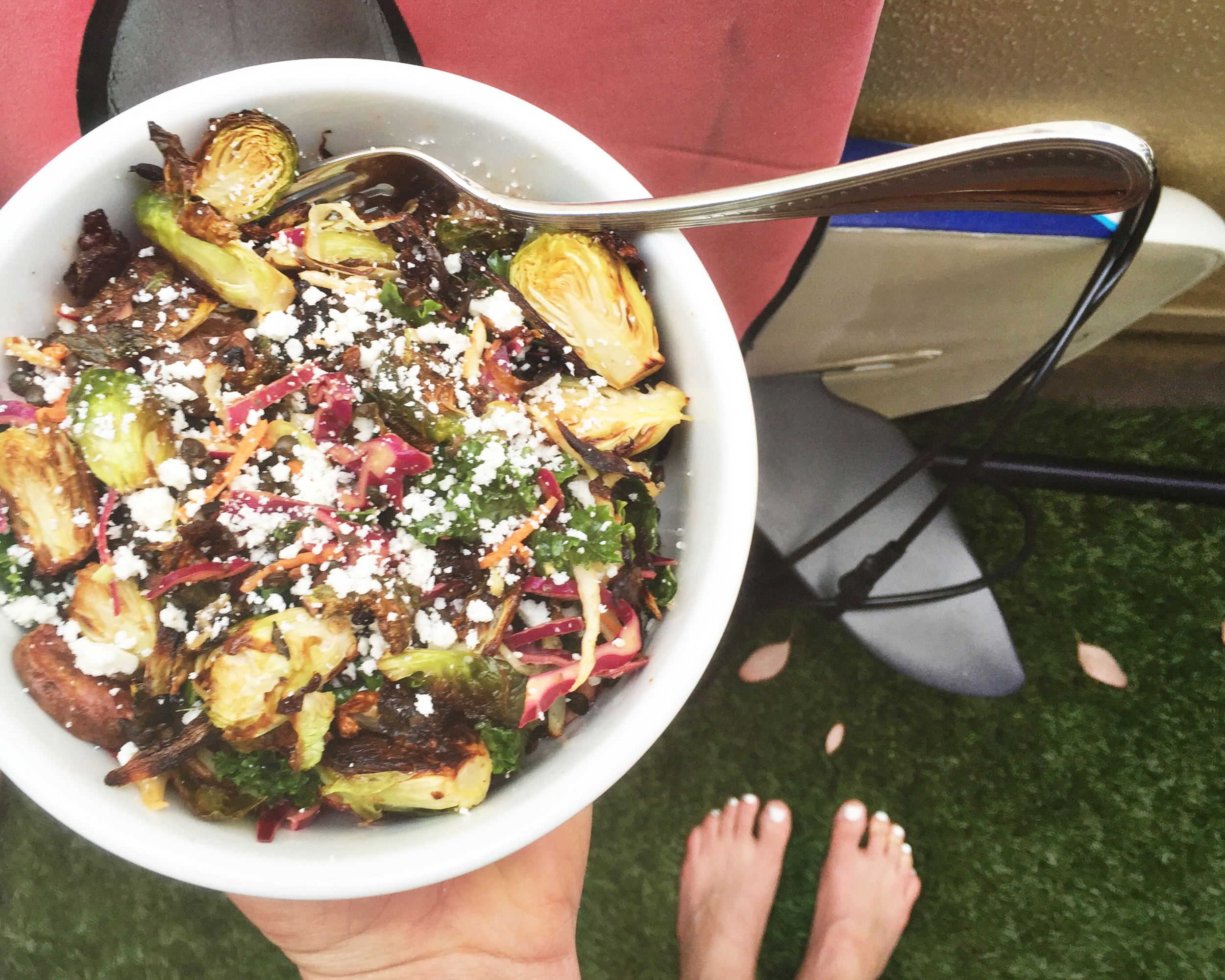 It's hard to eat a cold salad for dinner and feel truly satisfied. I love the warmth of roasted vegetables on salad greens that can handle the heat. Choose the fibrous vegetables to stay full and feed healthy gut bacteria!
Slaw:
2 cups chopped kale leaves

¼ cup shredded carrot

¼ cup shredded red cabbage

¼ cup shredded green cabbage
Dressing:
3 tbsp. homemade Aioli, Primal Mayo (used here) or Olive Oil

1 tsp Organicville Sriracha (more if you like it spicy)

2 tbsp Red Wine Vinegar

Juice of 1 lime
Salad:
½ onion thinly sliced

2 cups Brussels sprouts halved (or other cruciferous or root vegetables of your choice)

ghee or coconut oil

cojita cheese (to taste)

cilantro (to taste)
Preheat Oven to 425 degrees. In a large bowl, whisk dressing ingredients in the bottom of the bowl. Add all slaw ingredients on top and hand mix.
Slice root or cruciferous vegetables of your choice into ½ -1 inch cubes. If you are using Brussels sprouts, remove 1 or 2 of the top leaves. (This will allow the sprout to cook faster and creates a caramelized crunchy topping for your salad.) Toss Brussels and onions with melted ghee (or coconut oil) and roast for 20 minutes, flipping and stirring halfway through.
Top with cojita cheese and cilantro. Enjoy!