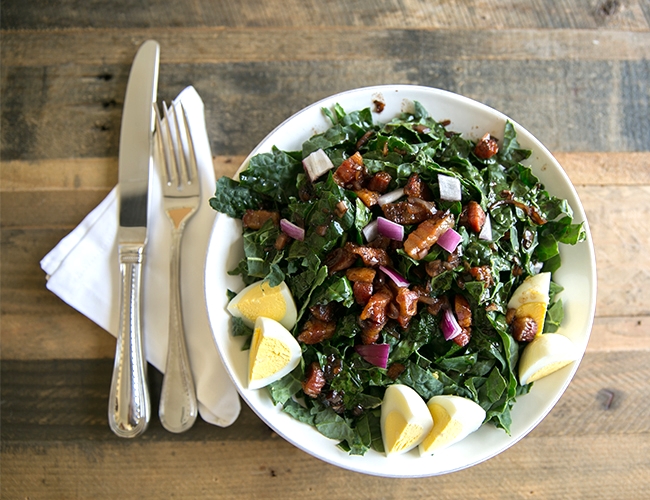 Fat is not the enemy it is cracked up to be, even Mayonnaise and Aioli.  The Paleo movement, Keto diet and even Time Magazine are bringing the truth to light. In a number of studies, saturated fat has been shown to have extremely positive effects on the body, including skin health, brain health, hormone production, liver efficiency and even immunity. Eating saturated fat increases free testosterone levels, which help to repair tissue, preserve muscle, and improve sexual function. Adding grass fed butter or coconut oil to your diet will help white blood cells to recognize and destroy invading viruses and bacteria. Eating more olive and avocado oil will not only help your skin glow from the inside out but it will encourage your liver cells to dump their fat cells and function more effectively.
So, fat really doesn't make you fat? No! Unfortunately, the opposite is true in the last 30 years we cut fat consumption by 10% and have seen our obesity rate double. So, what's the catch? The health of fat depends on the type, how it is processed and how you cook with it. Avoid all processed seed, corn and soybean oil, they are corrosive and most are genetically modified. Instead, cook with fats that are solid at room temperature like coconut oil, grass fed butter or ghee. For dressings or mayo, stick to olive or avocado oil bottled in a dark container and keep them in a cool dark place to avoid oxidation.
My tip for you; download a cooking oil smoke point chart and never let that oil be heated past its threshold. When oil smokes it oxidizes creating free radicals and requiring your body to neutralize it with antioxidants. Instead hydrate with coconut and olive oils and stay young vibrant and well!
Ingredients
1/2 cup extra virgin olive oil

4 ounces sliced pancetta, diced (or pastured bacon)

1/4 cup red wine vinegar

1 tablespoon raw honey

1/4 teaspoon sea salt

1/4 teaspoon freshly ground black pepper

1 (8-ounce) bunch of kale, stems discarded, leaves shredded

2-4 chopped hard-boiled eggs

1/4 cup chopped red onion
Directions
Place the pancetta in a small saucepan over medium heat. Cook, stirring frequently, until the pancetta is golden and crispy.

Strain the pan drippings, leaving about 1 tablespoon in the pan with the crispy pancetta.

Add olive oil, red wine vinegar, honey, and salt and pepper to the pancetta pan and whisk until the honey dissolves.

Combine kale, eggs and red onion in a separate salad bowl.**

Add the pancetta to the salad, then toss while adding the warm dressing from the saucepan, little by little, until salad is well dressed.

Taste and adjust seasoning with salt and pepper.
** If preferred, you can add the kale combination to the sauce pan at this point, and lightly sauté to further breakdown the fibrous kale. This will help make it less bitter and fibrous.