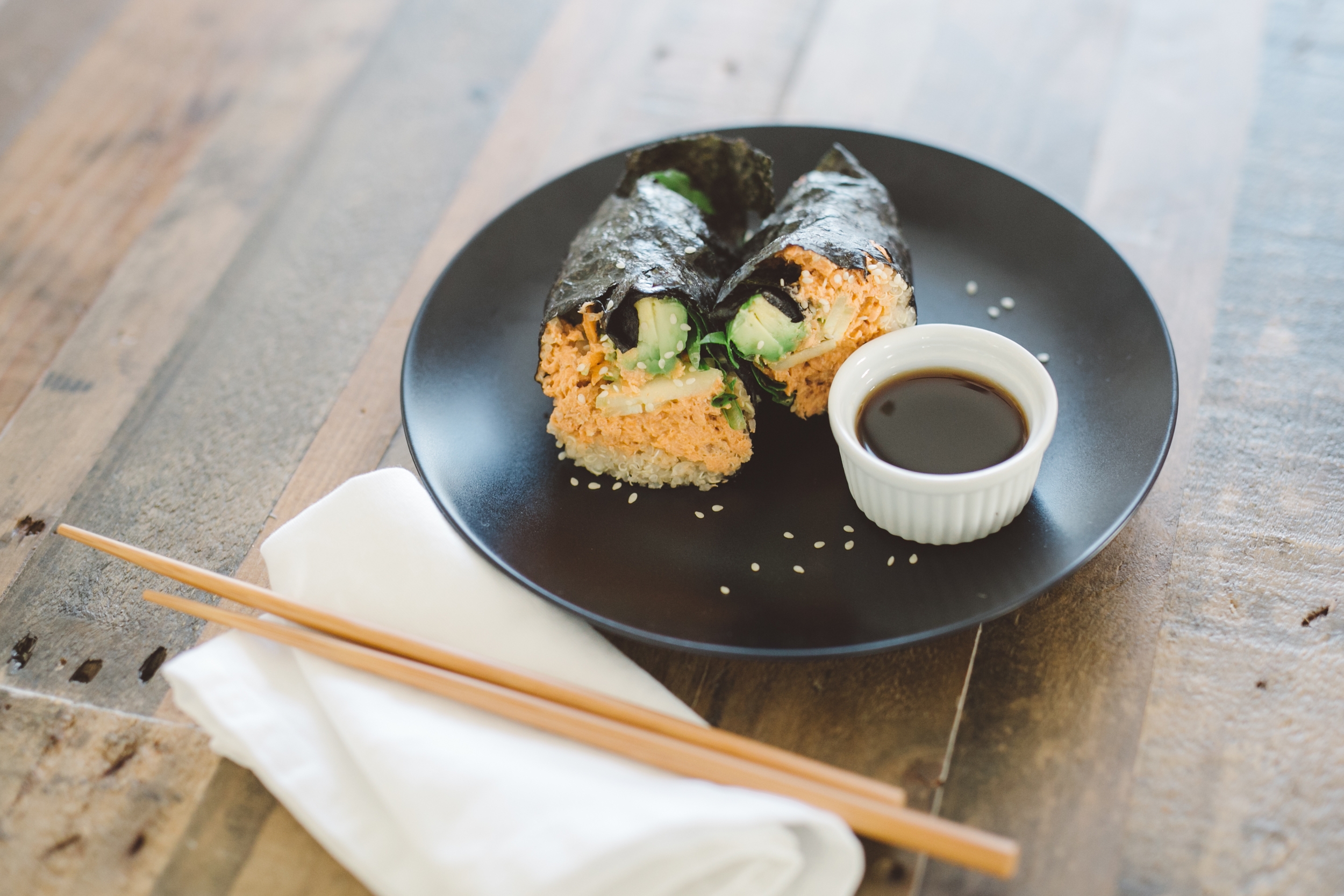 The spice gives the salmon an extra kick!
Makes 2 servings
Ingredients
¼ cup Primal Kitchen mayonnaise

1 to 2 tablespoons Sky Valley (Organicville) gluten-free Sriracha sauce (another super clean brand!)

1 (6-ounce) can wild salmon, drained (or cooked salmon filet flaked)

1 (10-sheet) package 7 x 8-inch dried nori wraps

1 cup cooked quinoa or brown rice (optional)

1 cup mixed greens

1 tablespoon olive oil

1½ teaspoons rice vinegar

1 avocado, pitted, peeled, and thinly sliced

½ cup sliced peeled cucumber

½ cup shredded carrot

1 tablespoon sesame seeds

¼ cup coconut aminos
Directions
Preheat the oven to 350°F. Line a baking sheet with parchment paper.

In a medium bowl, combine the mayo and Sriracha. Add the salmon and mix gently with a fork.

Place 2 nori sheets on the prepared baking sheet and top each with ½ cup of the quinoa (if using) and half the salmon salad. Warm the wraps in the oven for 3 to 5 minutes, until the nori is malleable (if the quinoa is warm, you won't need to use the oven).

In a medium bowl, dress the greens with the oil and vinegar. Toss to coat.

Layer the nori wraps with the avocado, cucumber, carrot, and mixed greens. Roll each into a burrito (ends tucked in) and cut in half. Garnish with the sesame seeds and serve with coconut aminos for dipping.