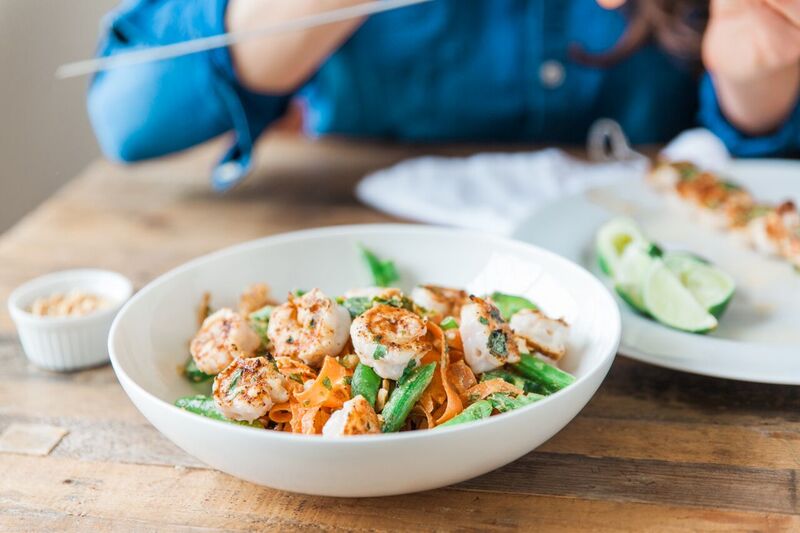 Adapted from my dear friend Jessica's Low So Good Cookbook - Carrot Vegetable Noodle Salad with Spicy Shrimp
Ingredients
5 medium carrots

1/4 to 1/2 cup lemon tahini dressing (I used tahini and a squeeze of lemon juice)

4 oz snow peas, washed and trimmed

2 green onions, thinly sliced

1/2 red fresno chile

1/2 jalapeño chile, seeded and thinly sliced (optional)

1/4 cup chopped basil

1/4 cup cilantro

1 tsp salt-free garlic powder

1 tsp salt-free chipotle chile powder or salt-free chile powder

1/4 tsp freshly ground black pepper

12 extra-large frozen shrimp with tails, thawed, peeled and deveined

Coconut oil for grilling

1/4 cup salt-free chopped peanuts

1 lime, cut into 4 wedges
Directions
Use a vegetable peeler to make carrot ribbons. Transfer to a large mixing bowl and add 1/4 cup of the dressing. Toss to coat well; taste and add more dressing, if desired. Add the snow peas, green onions, fresno chile, jalapeño, basil and cilantro. Set aside.

In a medium mixing bowl, mix the garlic powder, chipotle chile powder, and pepper until combined. Add the shrimp and toss until coated with spice rub.

Heat 1 tbsp coconut oil in a large sauce pan or skillet over medium-high heat. Add the shrimp in batches, and cook on both sides until nicely seared and the shrimp are pink (about 3 minutes per side). Remove the shrimp to a plate and set aside. Repeat until all shrimp are cooked.

Serve the salad, with the shrimp and garnish with peanuts and lime wedges.