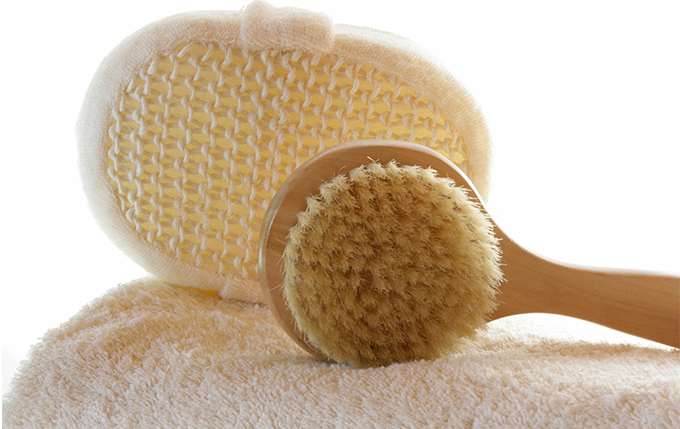 Dry skin brushing effectively opens up the pores by buffing away dead skin but its benefits go beyond skin deep. The act of making long sweeps up your body actually boosts circulation and lymphatic drainage, and ultimately rids the body of toxins. If the toxic benefits don't get you in the mood to love on your largest organ (your skin) maybe a proven reduction in cellulite will get that brush moving.
Within a week you will notice a dewy smooth complexion and in addition to sloughing away dry skin on areas like knees, elbows and ankles. Adding body brushing to your routine will promote tighter skin, cell renewal and blood flow. An increase in circulation also helps the lymphatic system release toxins and aids in digestion and kidney function.
HOW TO:
Use the skin brush once a day before you get into the shower, or in the shower without the water on. Brush towards the heart making long sweeps, avoid back and forth, scrubbing and circular motions. Start at your feet, moving up the legs on both sides, then work from the arms toward your chest. On your stomach, direct the brush counterclockwise.
BRUSH TYPE:
Purchase a natural fiber brush, you can find these on amazon and at local health food stores such as Whole Foods. The bristles will feel stiff and soften over time.
QUICK TIP:
If you do decide this extra step in your routine is too much; purchase a wet/dry brush and use it in place of a loofa. Drizzle the wet brush with your shower gel and wash up in long sweeps towards your heart.  It's good to keep a wet brush in the shower and a dry brush in the bathroom to ensure the job gets done. Click our links to see a few we love.