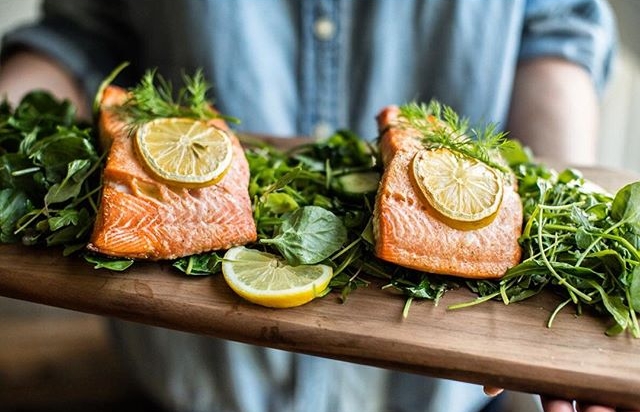 An elegant meal for special guests or a romantic dinner for two, this salmon dish is loaded with nutrition and flavor.
Makes 2 servings
2 (4-ounce) salmon fillets, skin removed

2 tablespoons olive oil

Pink Himalayan salt

½ lemon, thinly sliced

Juice of ½ lemon

¼ cup extra-virgin olive oil

2 cups arugula leaves

2 cups mâche leaves

Fresh dill, for garnish
1.     Preheat the oven to 350°F. Line a baking sheet with aluminum foil.
2.     Rub each salmon fillet with 1 tablespoon of the olive oil and season with salt. Place the salmon on the prepared baking sheet. Top each fillet with a few lemon slices and bake until cooked to your liking, about 20 minutes.
3.     In a salad bowl, whisk together the lemon juice and the extra-virgin olive oil.
4.     Add the arugula and mâche to the bowl with the dressing and toss to coat.
5.     Divide the salad between two serving plates. Top each with a salmon fillet and garnish with dill.