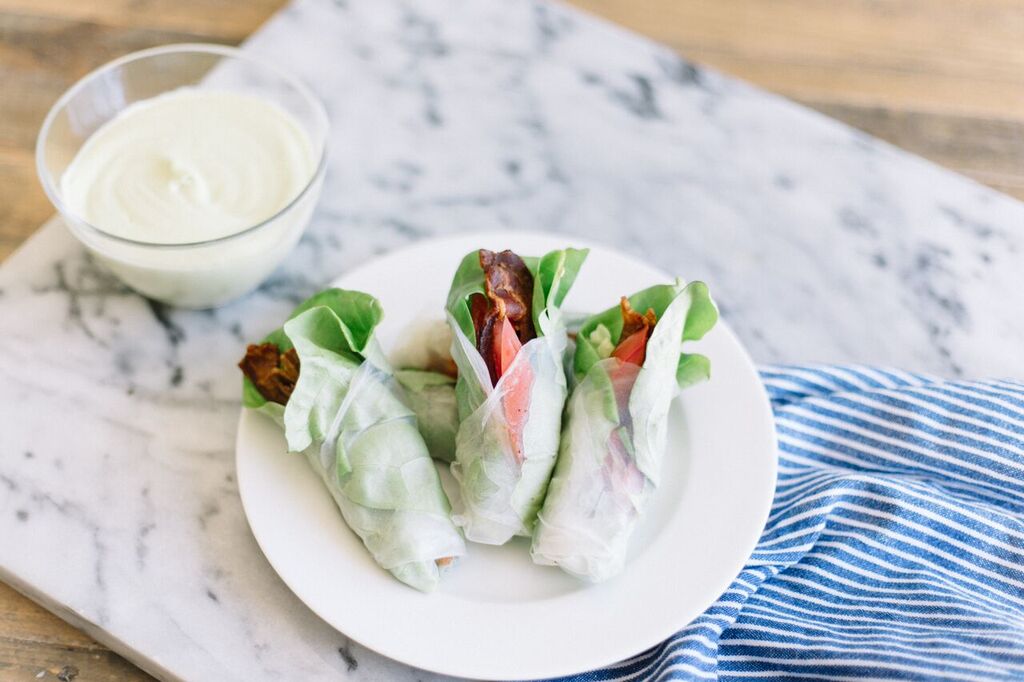 BLT Summer Rolls adapted from My Nguyen's cookbook, My Healthy Dish
Ingredients
8-10 slices of bacon

2 tomatoes

head of butter lettuce

rice paper - 1 pack

1 avocado
Directions
1.     Line baking sheet with raw bacon, put into cold oven
2.     Turn on oven and set heat to 375. Cook for 15 minutes.
3.     Drain grease, pat bacon dry
4.     Fill a shallow bowl half way with cool water
5.     Dip the rice paper for about 2 seconds and then immediately lay flat on your workspace. If the rice paper soaks for too long, it becomes soggy and hard to fold
6.     Center the ingredients vertically, layered however you'd like, positioned about 2 inches from the lower edge
7.     Pull up the bottom so there's good support, then roll up the rice paper from one side to the other
Avocado Aioli Dipping Sauce:
1 large avocado

3 garlic cloves

1 tbsp fresh squeezed lemon juice

¼ cup Primal Kitchen Mayo

Pink Salt to taste
1.     Add garlic to high-speed blender and blend until minced. Add the rest of the ingredients and blend until smooth.