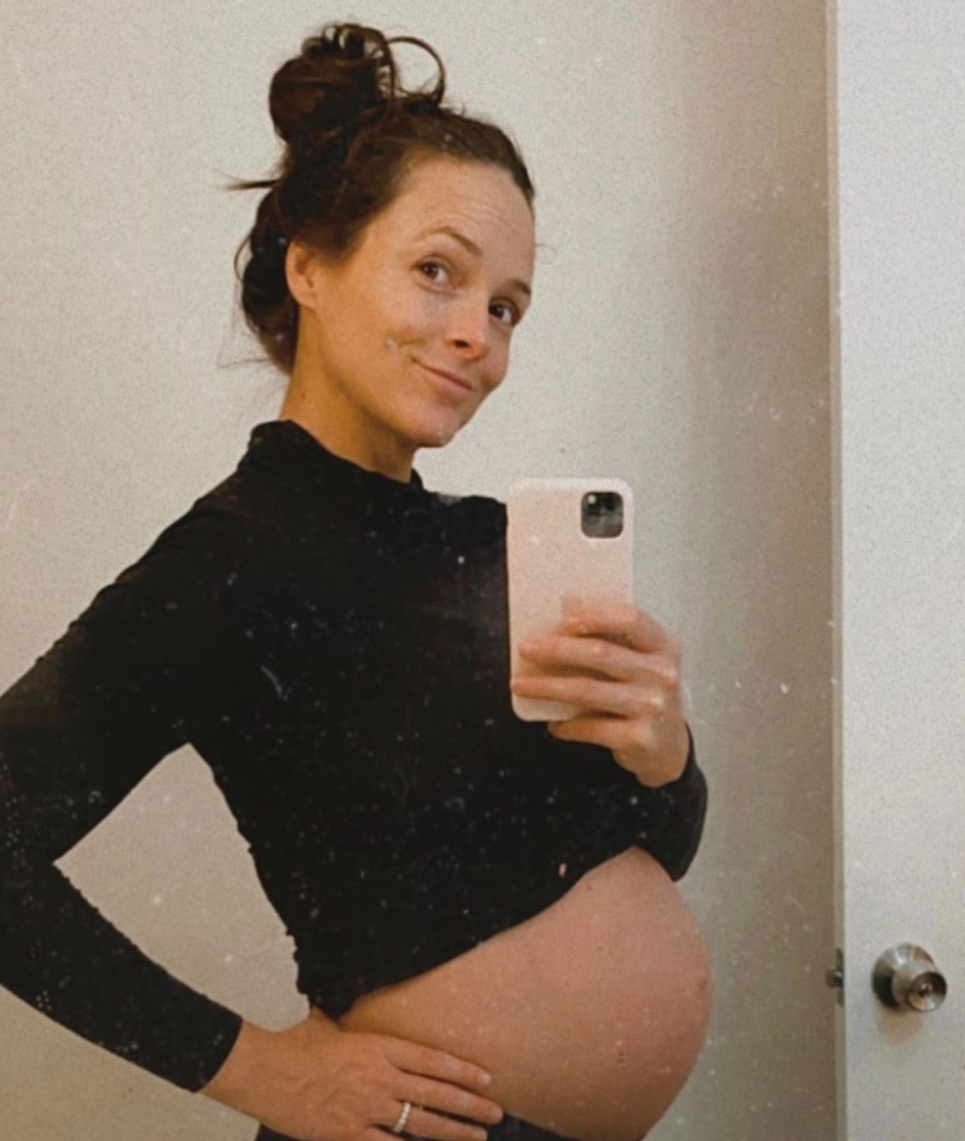 This page contains affiliate links and are asterisked as they appear.
With our first baby, I packed my hospital bag with everything we might need during our stay. In addition to clothes and toiletry essentials, I packed a cooler full of Fab 4 snacks and individually portioned soups and stews to get my husband and myself through those first few days. We thought we were prepared for anything, but when things didn't go as planned the last thing we were worried about was our snack supply.
There's nothing wrong with being ultra prepared like that, but with our second child we're feeling more relaxed and know that we can pack less but still have what we need and be able to pivot no matter what happens. We also plan to stay only one night and know we won't need as much food this time around. While we're taking some snacks with us and may have family or friends who can bring us a meal, it's just one night. We'll have some simple snacks and a potential smoothie meal for us, and can get back to our regular routine when we're back home. 
As for postpartum needs, I'm planning to use the hospital supplies for a lot of things. The hospital has phenomenal, medical grade breast pumps and will provide you with all the related supplies, should you need them. With birth, there's the possibility that any clothes you take may end up stained or ruined so I wouldn't recommend taking your favorite outfits or anything light in color, just in case. The hospital will supply you with gowns, pads, mesh undies, and anything else you need to take care of yourself after labor and delivery. I brought all of my own stuff last time, but I'm choosing to pack light and save my stuff for when I'm home.  
I recently shared everything I packed on IGTV and wanted to give you a place to find some of my favorite items as well as a checklist for you to prepare your own hospital bag when you need to. Everything fits in my large Dagne Dover duffle* so it'll be easy to just grab this and head to the hospital when it's time. Now let's get packing!
For snacks, my recommendation is to focus on the basics, like plain crackers, electrolytes, bone broth, a smoothie, and snacks with protein as well as a little carbohydrate. Here's what I packed: 
When it comes to postpartum clothes, you're gonna want things that are comfy and cozy but also not the fanciest (remember, there's a chance they'll get ruined). This a weird time that not many people talk about, so I want you to be prepared, but also know you can pack minimally and don't need to be afraid or ashamed to use that hospital gown!
For Baby, I packed the basics but because baby skin is so sensitive, I prioritized using our own products that I know have been washed in clean detergents (you can find brands I love here). 
2 cozy swaddles that are organic cotton muslin

A couple of onesies 

ViaCord tissue and cord blood registry. Right now, what you can do with tissue and cord blood isn't extremely impressive, but we're doing this as an insurance policy for the future. I think this is something great to have available for should anything happen down the road and knowing research around the use of these tissues will likely advance over time. 
Toiletries - One of my favorite parts of the postpartum period is all the skin to skin snuggles. I choose products that are free of scents and fragrances in order to protect my babies from these often problematic ingredients - I even steer clear of natural fragrances because those can still be irritating. You can find most of these things in my free Beauty Guide and I put some of them into silicone travel containers
For me, using supplements is a no brainer, especially postpartum when I'm depleted from pregnancy as well as labor and delivery. They're a way to optimize nutrition and support both mom and baby during this critical time. Working as a functional practitioner and evaluating so many NutrEvals for myself and my clients, I know it's pretty rare to be able to get absolutely all nutrients in adequate levels from food alone. I've also used Lactation Lab (use code KELLY10 for 10% off breast milk tests) to determine the nutrient deficiencies that show up in my breastmilk. I feel strongly about taking all these supplements to fill in any gaps, and to work as an insurance policy so I know my babies and I are getting what we need to thrive in this postpartum period. I packed the following supplements in a pill organizer for the hospital stay.
For more specific recommendations on supplements and nutrients you need during pregnancy and in the postpartum period, I recommend the nutrient section of my pregnancy course. It contains everything you need to prioritize to support your baby, as well as to help yourself heal and give you the nutrients you need that will be transferred to your baby through breastmilk. This section alone is worth its weight in gold and will help you no matter where you are on your road to pregnancy - preconception to beginning postpartum. 
Odds & Ends, because you know you'll need them
Phone charger

Flip flops for shower

Hair clip rather than hair ties to help prevent hair loss as much as possible
Postpartum Recovery is not a one day thing. It will take time for your body to heal and for you to feel like yourself again - that's 100% normal! Here are some ways you can support yourself during this time. 
Focus on meals that contain amino acids (aka protein) as well as vitamin C to support collagen synthesis. I focus on protein foods and especially those with connective tissues (bone broth, etc) to help support muscle and tissue synthesis as my body heals. Soups and stews are a definite favorite, and you know I'll be whipping up my #fab4smoothies featuring my protein powder that is naturally rich in collagen. 

All my prenatals, which are high dose and will provide all the nutrients we both need. You can find the nutrients and appropriate doses to look for in my pregnancy course. 

Family and friends will want to love on you the way YOU want to be loved, so don't be afraid to be clear with what you want so there is no waste. Here are some tips to make this process easier:

Write down food allergies or intolerances

List preferences or likes for drop offs

Make a takeout menu with what your family normally orders and from where

Then, share these with your point person to distribute if someone offers or attach it to the birth and delivery plans you're sharing with your people.
When my family asked me what I wanted postpartum I simply said Fab 4 style soups and stews for the freezer that I could defrost and heat up quickly. Here are a few other things on my list:
Gluten and dairy free

Freezer friendly items like soups

Postmates gift cards or delivery from our favorites

No desserts, or single serving only
You might think that last one is a little bossy, but let's say you're sleep deprived and there's a dozen of your favorite oatmeal chocolate chip cookies on the counter. Even with the best intentions, it gets hard to say no every single time you walk in the kitchen.
For me it's twofold - I'm not tempted by sugar or on a blood sugar rollercoaster during a transition where I want to feel calm, and most importantly what I'm serving up is directly feeding my baby via breastfeeding. I choose to control the controllable and enjoy sweets in small portions and not be tempted by that ever-present dessert plate. 
I hope this checklist and recovery guide is helpful as you pack your hospital bag and get ready for delivery. No matter what happens, I see all of this preparation as a way to care for yourself and your family and set yourself up to pivot in any circumstance.